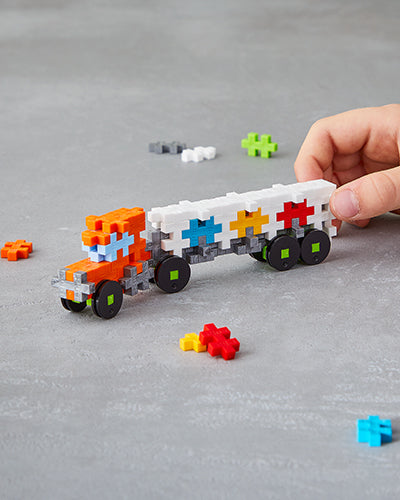 Tubes
In our tubes, you'll discover a sea of possibilities, allowing you to build everything from cute animals to cool superheroes or choose from beautiful color blends.
You have seen
16
out of
104
products
Tubes
Inside each tube, you'll find an abundance of colorful Plus-Plus pieces that invite exploration, building and creating. Unleash your inner master builder and craft stunning 2D mosaics. Alternatively, take on the challenge and create impressive 3D creations, where characters and structures take shape, transforming into magical universes. Some tubes include building instructions, while others feature an inspiration guide, where imagination alone becomes the primary source of inspiration.
Available in both BIG and Plus-Plus sizes
With Plus-Plus tubes, play is always at your fingertips. The compact tubes are easy to take on the go, enabling play no matter where you are. And when playtime is over, storage is a breeze. Simply place your Plus-Plus pieces back into the tube, ensuring they're ready for the next adventure.
Plus-Plus tubes are also perfect for sharing with friends and family. Create a playful atmosphere where you can compete to build the most incredible creature or the most colorful mosaic. Let your imagination run wild and watch as play brings you closer together, generating contagious joy.