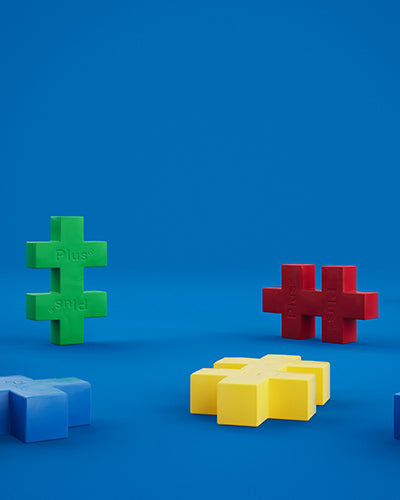 Plus-Plus
Plus-Plus is for both young and old who love to be creative. Plus-Plus has one shape that can easily be connected in countless ways, and they come in a variety of beautiful colors.
You have seen
16
out of
163
products
Plus-Plus
Recommended age from 5 years. We also have our BIG series, suitable for ages as young as 0 - see the BIG series here.
Plus-Plus Toys for Ages 5 and Up

With Plus-Plus, only imagination sets the limits. There are endless possibilities with our 'one shape' construction toy. Its unique design allows for easy assembly and combination into both 2D and 3D creations. Build race tracks, cars, lunar landscapes, zoo animals, jewelry and much more. In addition to fostering imagination, Plus-Plus toys enhance children's fine motor skills, creativity, focus, and patience.

Our toys come in a multitude of colors, so all young engineers can build whatever they desire. We offer the option to purchase specific single colors. See the full range of colors here.

Transporting Plus-Plus is convenient, making it great for taking on the road in a car, plane, train or ferry - it might also accompany you to grandparents' houses or restaurants. We offer small travel bags with handles, allowing children to carry the toys elegantly. See our selection of travel bags here.

If you're looking for toys for children under 3 years old, we recommend our BIG series, which follows the same template as Plus-Plus. BIG pieces are larger and thus suitable for children as young as 0 years old.

All our toys are produced in Denmark at our factory in Holbæk. The factory and headquarters run on 100% green energy from wind power. All products and packaging are 100% recyclable. Plus-Plus is always free from PVC plastic and phthalates and is approved for food use - meaning your child can play without worries.

Did you know that our toys are hygienic? They can be washed in a washing machine or dishwasher in a laundry bag at temperatures up to 90 degrees Celsius. Learn more about how to wash them here. We call it hygienic play.
Why Choose Plus-Plus Toys?

Today, toys should be fun and developmental, and that's precisely what we aim to combine.
The unique design of Plus-Plus toys allows them to be assembled in endless ways - build in both 2D and 3D, with only imagination setting the limit.
Educational and developmental toys - they train children's fine motor skills, logical thinking, creativity, and imagination.
Recommended age from 5 years. Plus-Plus measures 12 x 20mm in size. We also offer BIG, specially designed for the little ones.
Easy to take on the go, regardless of where your journey takes you - it can be easily transported, either in a bag or in our smart travel bags.
Hygienic play - easy to wash in a washing machine or dishwasher in a laundry bag at temperatures up to 90 degrees Celsius. (SEE BELOW)
Produced in Denmark using clean wind energy.
Always free from PVC plastic and phthalates and approved for food use.
Things to Know About Children's Toys
There can be many considerations before buying toys for children, from age to size to safety. For us, it comes down to four things: development, concentration, imagination, and safety.

As a parent, you can consider the following:

Does the toy develop my child's fine motor skills, such as finger dexterity?
In today's fast-paced world, it's important that your child's toy is both fun and aids in increasing concentration.
Imagination is a vital part of children's upbringing; it can instill independence and teach them to think and develop on their own.
Safety is crucial. As a parent, you need to trust that your child's toys are safe. Are they free from harmful substances?
At Plus-Plus, these four elements are paramount. They guide the creation of our toys, ensuring that your child can develop in a safe and secure manner.