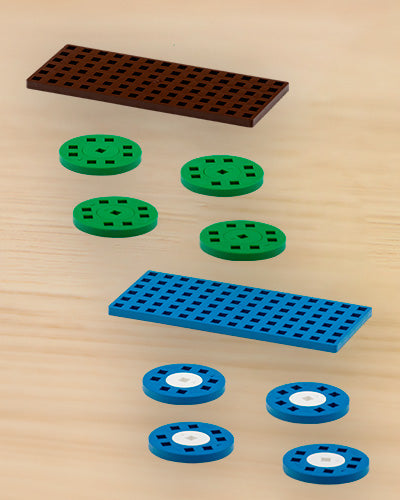 Baseplates & Wheels
Do you need extra parts to take your creations to new heights? In this section, you'll find the coolest accessories that provide you with even more ways to build.
You have seen
5
out of
5
products
Baseplates & Wheels


With our building plates, you can elevate your play to new levels. Create beautiful 2D mosaics or explore exciting 3D worlds where figures and structures take shape from your imagination. Whether you're an experienced builder or a beginner, our building plates will add an extra dimension to your creativity.

Many of our Plus-Plus sets come with building plates, but if you want to expand your collection and explore even more play possibilities, we offer additional building plates that can be purchased separately. This gives you the freedom to expand and customize your creations as needed.

Our building plates come in different sizes and colors, allowing you to customize your designs and create the most amazing color combinations. Craft a blooming garden with colorful flowers or build a futuristic city with vibrant hues - only your imagination sets the limits.

The building plates are perfect to take on the go. Bring them in the car on a long journey or to a friend's house for on-the-go play and creativity. They are also ideal for creating a playful atmosphere at the dinner table, where imaginative mosaics can take shape as you have fun together.

Plus-Plus building plates are not only fun for children but also for kidults - adults with a youthful spirit! Grab a building plate and your Plus-Plus or BIG pieces and unleash your inner creativity. Explore your architectural and engineering skills, and let your dreams take shape through Plus-Plus.

The building plates are also a fantastic way to enhance fine motor skills and problem-solving abilities. As you concentrate on placing your Plus-Plus or BIG pieces on the plate, your brain and hands are trained in a fun and challenging manner.

So whether you're a beginner or an experienced builder, Plus-Plus building plates will provide you with a playful and inspiring experience. Explore the additional building plates, expand your collection, and let your creativity take you on an enchanting journey through colorful and imaginative worlds.