About us

Plus-Plus is a never-ending story of creativity, rooted in Danish quality and design.
With a singular shape and a world of colors made for children and free spirits of all ages, Plus-Plus inspires people everywhere to play freely.
What is Plus-Plus?
Unleash the power of your imagination with Plus-Plus! With its unique design in a single shape, Plus-Plus offers boundless opportunities for creativity. Plus-Plus is available in two sizes: Plus-Plus, where each piece measures 20mm x 12mm, catering to children aged 4-5 years and above, and Plus-Plus BIG, where each element measures 50mm x 30mm, providing a secure play environment from 0+ years. From a single repeated element, the possibilities are endless as you bring your ideas to life in both 2D and 3D forms.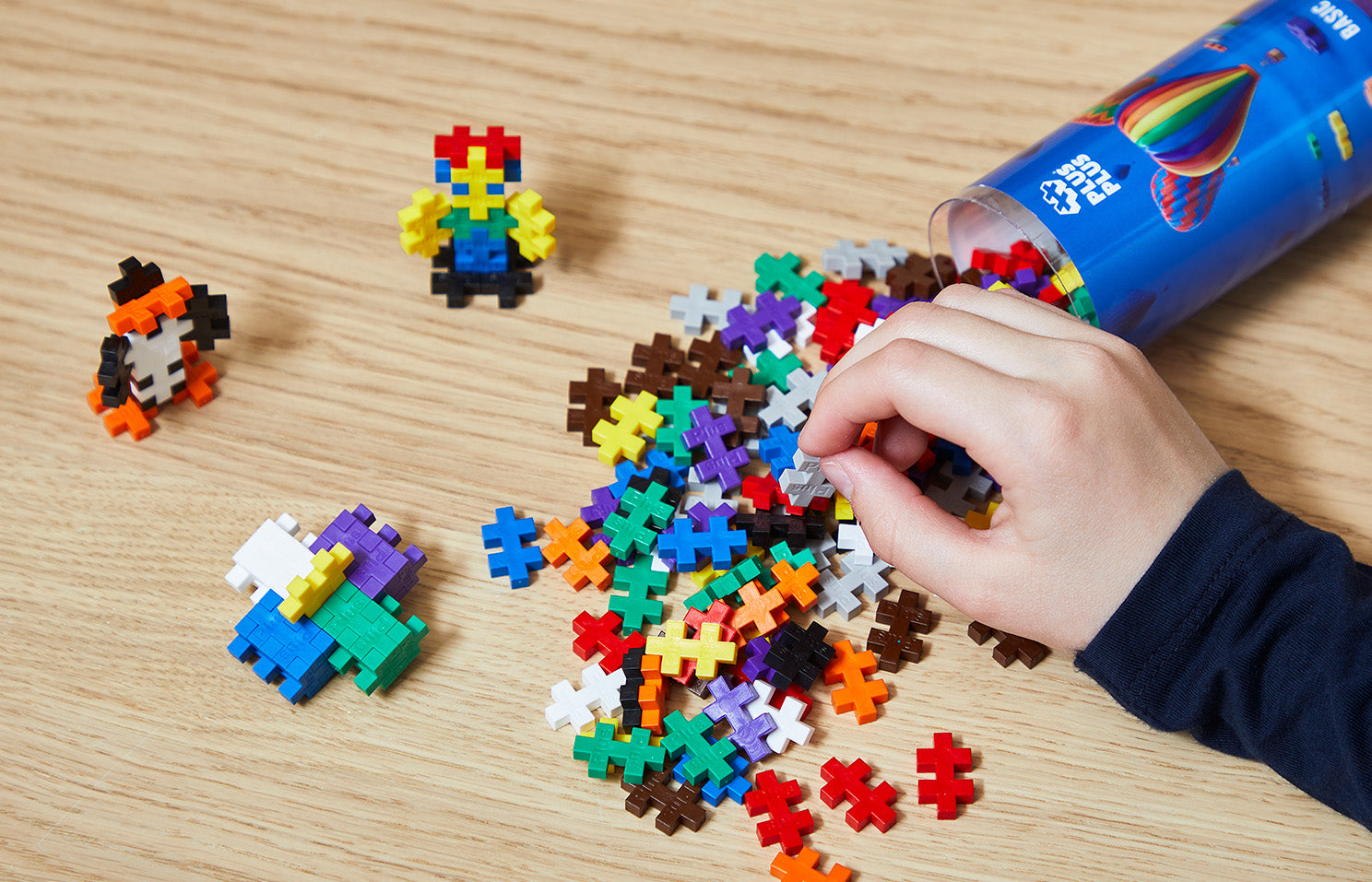 Developmental play
This remarkable educational toy not only enhances fine motor skills but also ignites the spark of creativity, fosters focus, and nurtures patience. Dive into a world of vibrant colors and let your imagination soar as you create captivating flat mosaics or delve into the realm of three-dimensional creations. With Plus-Plus, your imagination is set free through the simplicity of a single shape.

Plus-Plus is popular with teachers and the educational sector because of the tactile elements, and the open play possibilities which stimulate fine motor skills and creativity. It is perfect for anyone who wish to challenge their creative skills and can be used as a family activity, with friends or an opportunity to destress.

Developmental play
There are many educational benefits e.g.
• Fine Motor Skills
• Sensory Development
• Colors & Shapes
• Counting & Sorting
• Three-dimensional learning skills
• Engineering
• Problem Solving
• Imaginative Play

You are never too young or old to play with Plus-Plus and there is no wrong way to play!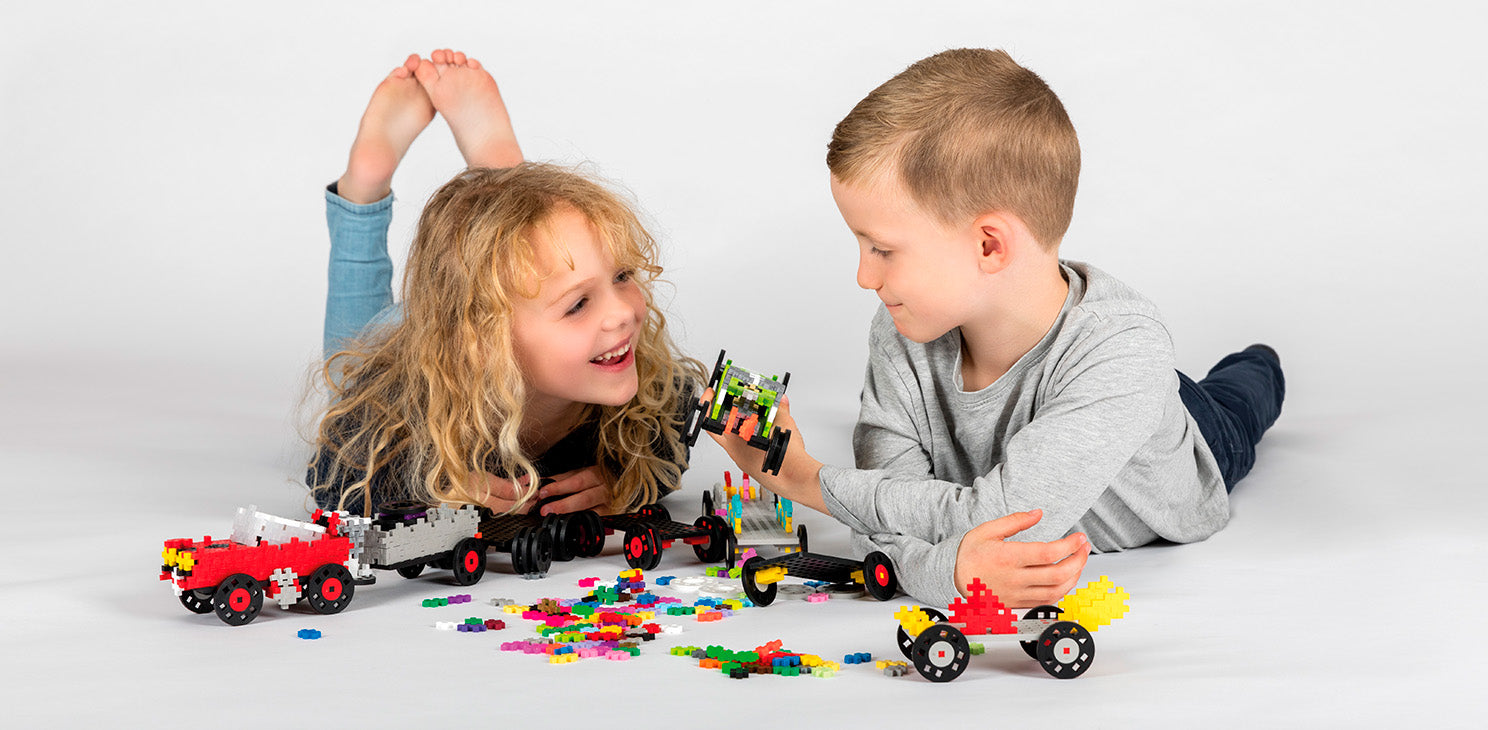 What is Plus-Plus made from?
Plus-Plus is made from LDPE plastic which is an acronym for Low-Density PolyEthylene. This type of plastic is used for many different products e.g. squeezable bottles, coatings for paper milk cartons and plastic bags for bread and frozen foods. It is a tough and flexible type of plastic that is also well suited for toys. Our baseplates and wheels are made from ABS, a material commonly used in building bricks.
We carefully select and trust our vendors, and most of our raw material is produced in the EU. Even so we perform extra testing of all production material to make sure that they meet our criteria.
Plus-Plus is 100% recyclable. When no longer played with, we recommend that you recycle your Plus-Plus or - even better - pass them on to new users or save for future generations.
Product Safety
It is important to us that our products do not contain harmful materials that are potentially harmful for children.

We ensure this by:
Plus-Plus is constantly tested and is approved according to EU toy standards: EN 71-1, 71-2, 71-3. and REACh.
Free of phthalates, PVC and BPA. North America: ASTM / CPSIA
Tests are performed by external and independent laboratories.
Plus-Plus® is approved for food & beverage.
Plus-Plus® is free from phthalates.
Plus-Plus incl. our packaging is free from PVC.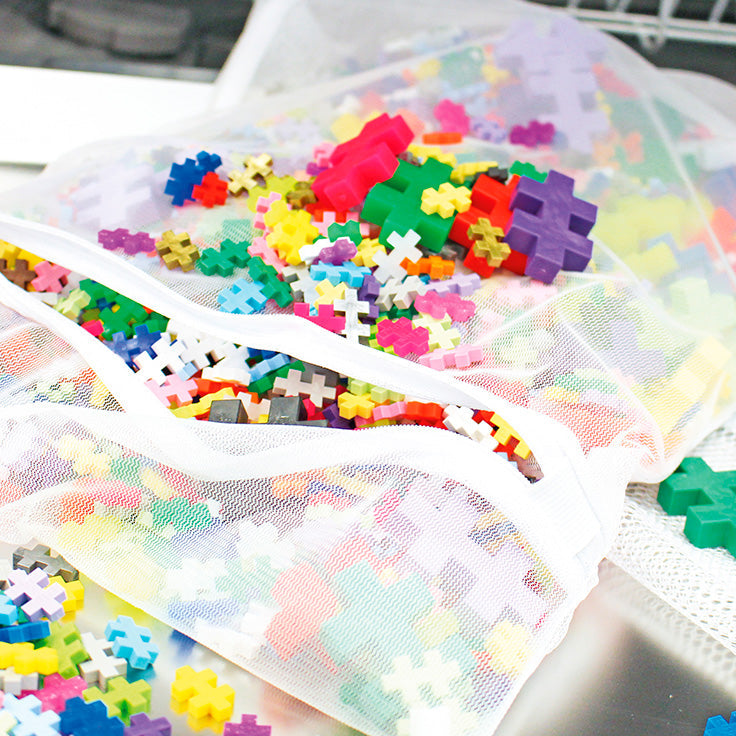 How to Clean Plus-Plus
If your Plus-Plus have gotten dirty or shifted many hands, it's a good idea to wash them every now and then. Luckily its easy and risk-free. Simply put them in a mesh bag and wash in a washing machine or dishwasher and your Plus-Plus will sparkle again. Max 90 degrees Celsius.
Our purpose
At Plus-Plus, we have a lot of faith in the little ones -- the children and our pieces. Over the years, we've learned a few things by watching what happens when the two meet. That the simplest form and purest minds can create the biggest wonders. That play is within us. That play should be unpredictable. That the more you leave room for surprises, the greater the reward.
We started Plus-Plus because we wanted play to be a never-ending story.
We started with one shape because we knew that sometimes too many options get in the way of the fun. We had a hunch that limitations would be freeing. So, we chose simplicity. The beauty is that Plus-Plus hasn't changed one bit. Because children and playful souls haven't changed. But parenting has. The idea that play should always have a payoff is taking over. Somehow a toy is not enough in itself; modern parents want built-in skills and competencies. They're expecting a return on investment in their children's free time. And what we're seeing is that stress and mental health issues are taking hold in our young, while children play less and less. It looks like childhood is losing an essential piece. That's why we're here to flip the script. We're here because we trust the children. They know what to do. And the one thing we will always guard is their right to play freely.
With a singular shape, we set play free.
Our Story
Plus-Plus originated in the 1980s in Holbæk, Denmark, with the objective of creating a simple yet captivating toy capable of igniting the imagination and the boundless creativity of children across all age groups. The educational market quickly recognized the immense potential embedded within Plus-Plus, embracing the concept of simplicity and open-ended play in schools and kindergartens. As time progressed, Plus-Plus garnered international acclaim as a distinguished brand renowned for its exceptional quality, and it proudly boasts an ever-growing collection of product and company awards.

Our deep-rooted pride in our Danish heritage fuels our commitment to producing Plus-Plus in our own factory located in Holbæk. Furthermore, in 2012, we expanded our horizons by establishing our own organization in the United States, and in 2023, we proudly opened our UK and Ireland office just outside London to oversee all sales operations in Great Britain. At present, Plus-Plus finds its way into the hands of children and enthusiasts in over 40 countries worldwide.

As a socially and environmentally responsible company, Plus-Plus actively engages with multiple charitable and non-profit organizations, channeling our efforts to make a positive impact. Moreover, our commitment to sustainability shines through, as our factory and headquarters are powered by 100% green energy from wind power. All products and packaging are 100% recyclable, and are made in Denmark, which is recognized as the most sustainable country in the world.