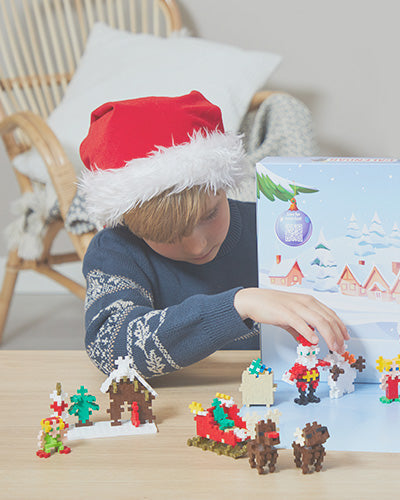 Christmas Gifts
Christmas gifts that combine fun, imagination, and creativity are always a hit, and Plus-Plus is an excellent holiday gift idea that will bring joy to children of all ages. Here, you'll find inspiration for gifts both big and small.
You have seen
16
out of
19
products
Christmas Gifts
With Plus-Plus, children can unleash their playful side, enhance their fine motor skills, and explore countless creative possibilities. Kids can create anything their hearts desire, from simple geometric shapes to more complex structures like buildings, animals, and imaginative creatures.

Plus-Plus comes in a variety of beautiful colors, adding an extra dimension to play as they can be used to create patterns, color combinations, and intricate details in their creations. With so many colors to choose from, children can express their personality and craft unique, colorful masterpieces.

Beyond being fun and entertaining, Plus-Plus also holds educational value. Children develop problem-solving abilities, patience and creativity as they experiment with different building techniques. It simultaneously stimulates their imagination and encourages them to think outside the box. It's not just a source of enjoyment but also a tool for enhancing their cognitive and motor skills in a playful manner.
Fantastic activity for the whole family
Plus-Plus is also a fantastic activity for the entire family to engage in. Children and adults can gather around the table and build together. It's a fun and interactive way to spend quality time together and create wonderful memories, especially during the holiday season when family comes together for joy and cosyness.

Another advantage of Plus-Plus is its sustainability and eco-friendliness. It's made from high-quality plastic, free from harmful substances and designed to withstand the test of time. As a result, Plus-Plus can be passed down from one generation to the next, making it a valuable gift that can bring joy for years to come.

Whether it's as a Christmas gift for kids, nephews, nieces or even adult play enthusiasts, Plus-Plus will be a welcome present under the Christmas tree. This colorful, fun and challenging toy will inspire hours of play and is sure to bring smiles during the holiday season and far into the future. So why not spread the holiday cheer with Plus-Plus this year?