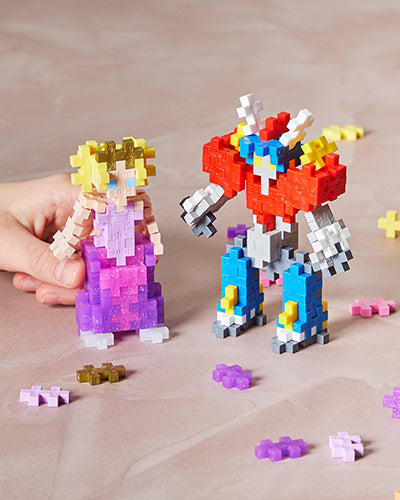 Bestsellers
Here you'll find products from every category. What they have in common is that they're among our most popular items. In this section, you can get inspired by what others have purchased and see which products are currently trending.

You have seen
16
out of
22
products
Bestsellers
With our bestsellers, you can design and build your own imaginative creations. Whether you want to craft simple 2D designs or intricate 3D structures, Plus-Plus is the perfect play to let your imagination run wild.
With a wide range of colors and exciting accessories like building plates and wheels, there are no limits to what you can achieve with Plus-Plus. You can build animals, spaceships, adventure worlds and much more. Plus-Plus isn't just fun, it's also a fantastic way to develop fine motor skills and problem-solving abilities.
Extensive Selection of Plus-Plus
The selection includes both smaller sets that are perfect for beginners and larger sets that challenge even the most experienced builders. Whichever set you choose, you're guaranteed a playful and entertaining experience.

Our bestsellers are also popular among adults who love to play like kidults. With Plus-Plus, you have the opportunity to unleash your inner creativity and craft unique artworks and decorative figures.

Whether you're playing alone or with friends and family, Plus-Plus bestsellers will create unforgettable moments filled with laughter, fun and creative exploration. It's the perfect activity to gather friends and family members and create unique memories together.

So, explore our fantastic range of top-selling Plus-Plus products and experience the joy and magic that await you. Set your imagination free and let the play begin with Plus-Plus! Whether you're a child or an adult, you'll experience the indescribable pleasure of creating, exploring and playing with Plus-Plus. So don't hesitate - dive in and let the play begin!