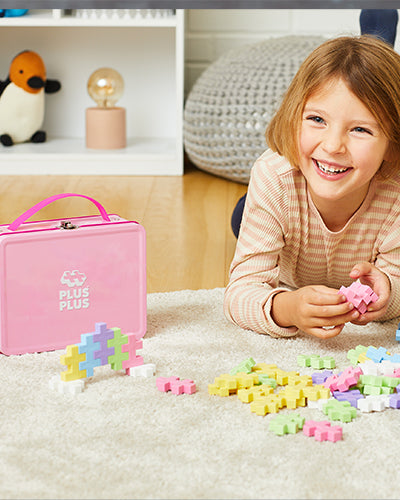 Travel & Storage
Take Plus-Plus on the go, whether your journey leads to the living room, the backyard or across the Atlantic. Here, you'll find all our storage solutions, ranging from large boxes to small, clever suitcases. When you purchase our storage solutions, Plus-Plus is always included, so you can get started on the right foot!


You have seen
11
out of
11
products
Travel & Storage


The more Plus-Plus you have, the more fun it becomes. The idea that you can create anything you can imagine requires a lot of Plus-Plus, especially if you're thinking big! But the more Plus-Plus you have, the more important it is to store them when you're not playing. That's why Plus-Plus offers a wide range of products that also serve as storage solutions. Small storage units perfect for travel and larger storage options that keep your Plus-Plus neatly organized at home.

Take Plus-Plus and BIG everywhere
With Plus-Plus, you can let your imagination run wild and build almost anything. They are the perfect tools for expressing your creativity and crafting your own unique masterpieces. Whether you want to build an impressive castle, a futuristic car or fun characters, there are no limits to what you can create with Plus-Plus.

And the best part is that you can take your creations with you everywhere! Long car ride ahead? Bring your Plus-Plus and create your entertaining figures on the way. Going out to eat with the family? Bring your little suitcase and enjoy hours of play at the table. Plus-Plus is the perfect travel companion that keeps you entertained no matter where you are.

But when you're not playing, your Plus-Plus need a place to be stored. We've got that covered too, offering a range of clever storage options. The small, compact suitcases are ideal for taking on the go and the larger boxes fit perfectly in your home, ensuring all your Plus-Plus are organized and easily accessible.

So let your imagination and creativity flourish with Plus-Plus no matter where you are! Create amazing creations, build your dreams and let the play continue for hours. With Plus-Plus, the possibilities are endless and you'll always have a great time, whether you're adventuring outdoors or enjoying leisure at home. Make sure to have plenty of Plus-Plus on hand and look forward to many hours of fun and colourful play!