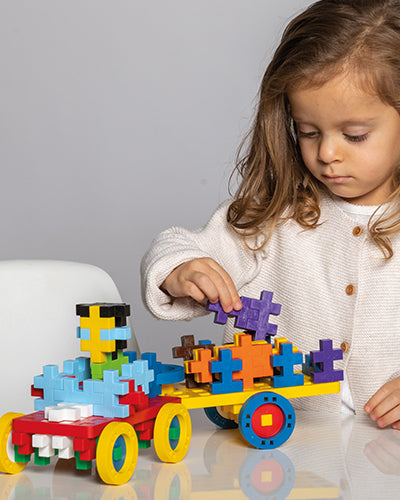 BIG Make & Go!
BIG Make and Go! is a fun activity for the youngest children and adults. Together, you can create all sorts of cool vehicles in a single design where even the littlest ones can participate.
You have seen
4
out of
4
products
BIG Make & Go!
With the BIG wheel and a building plate, children can construct their own sturdy vehicles and figures. We've ensured that they're easy to use, so kids can easily succeed in their projects and feel proud of their creations. BIG is suitable for children from 3 years old, but they are entirely safe even from 1 year.

In our range, you'll find products with lovely, vibrant colors that will capture children's attention and enthusiasm. Let them unleash their imagination and creativity as they craft colorful vehicles and figures.

We know that children love movement, so the Make and Go! series is designed precisely for that! Let them build vehicles, set them in motion, and witness how their creations come to life. It's a fantastic way to combine play and learning as they develop their fine motor skills and discover the fundamental principles of motion and construction.
BIG is 100% safe for small children
Our products are crafted with children's safety as a top priority. Therefore, they are made from high-quality materials and are 100% safe for the little adventurers to play with. We understand how important it is for parents to have peace of mind while their children explore and play, so we have taken all precautions to ensure that our products meet the highest safety standards.


The great thing about the Make and Go! series is that it's fully compatible with all other BIG sets. So if the kids already have some of our other products, they can easily combine them and expand their creative play universe even more. There are no limits to what they can create!

Let children's imagination and creativity flourish with BIG Make and Go! So, give them a gift that stimulates their imagination and keeps them entertained for hours - choose Plus-Plus Make and Go!